PT Sriboga Flour Mill is a spin-off of PT Sriboga Raturaya. In 2011, when its parent company grew from a flour mill to a food ingredients manufacturer, the company officially changed its name.
Today, the company is known as a leader in specialty wheat flour products. With 21 choices of high quality products, this company is trusted by various food businesses in Indonesia such as Pizza Hut and Marugame Udon.
The company also carries out various activities outside of business, such as empowering the SME community and implementing CSR programs for the surrounding community. Read this article to know more about the flour manufacturer.
PT Sriboga Flour Mill Company Profile
PT Sriboga Flour Mill is a spin-off of its parent company, PT Sriboga Raturaya, that started operations in 1995 and first flour production in 1998. In 2011, the company then changed its name to PT Sriboga Flour Mill, the manufacturer of specialized flour products that we all know today.
PT Sriboga Flour Mill focuses on developing high quality wheat flour products to answer all consumer needs. Utilizing the latest technology in wheat flour production, the company offers a wide range of innovative wheat flour products that cater to specific consumer preferences in the market.
The company's high quality wheat flour is trusted by many flour-based food businesses in Indonesia. Famous brands like Pizza Hut and Marugame Udon build their business and develop their products with Sriboga flour. To meet the needs of business to business (B2B) consumers, it also provides a bulk delivery logistics system.
PT Sriboga Flour Mill has a mission to continue to contribute to improving the social welfare of the communities where the company operates. This is demonstrated by the company's commitment to build and support SME communities through one of their divisions called Sriboga UKM Center. It was specifically made to empower the Sriboga SME community throughout Indonesia.
PT Sriboga Flour Mill Products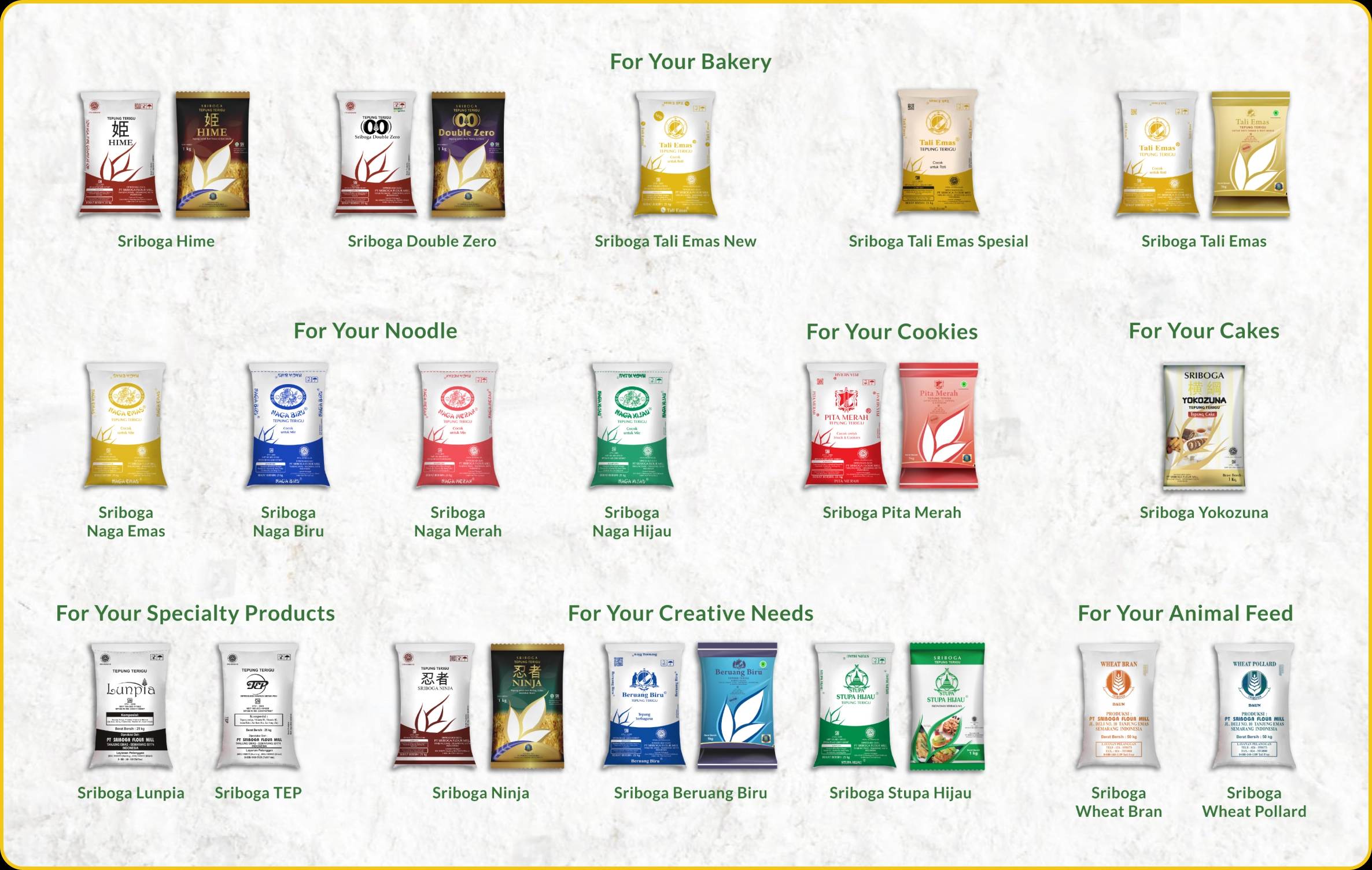 PT Sriboga Flour Mill produces various types of specialized and customized flours according to the needs of customers while still prioritizing the quality of all raw material that goes into their products.
In the early years of its production, the company only produced 3 wheat flours: Pita Merah, Beruang Biru, and Tali Emas. Since then, it has continued to add products to meet consumer needs. Until now, there are 21 high quality wheat flours for various cooking purposes as follows:
1. Bread
High protein flour is needed to produce stronger gluten, resulting in the perfect bread dough. The company produces a variety of high protein flours that are more than suitable for making bread, such as the Sriboga HIME, Double Zero, and Tali Emas series.
2. Noodles
If you are a noodle lover and are in search of the best flour to make chewy and elastic noodles, your search stops here. There are 4 choices of flour for noodles such as Naga Emas, Naga Biru, Naga Merah, and Naga Hijau.
3. Multipurpose
For your creative needs, the company provides a range of versatile flours that are ideal for any cooking and baking purposes. There are 3 all-purpose flours that you can choose from; Sriboga Ninja, Beruang Biru, and Stupa Hijau.
4. Cookies
For making cookies, you can use Pita Merah, a low protein flour that is perfect for making delicious cookies. With Pita Merah, you can produce cookies with outstanding crunchy texture and bright color.
5. Cake
Any professional cake maker would love this flour. Yokozuna is a wheat flour made from selected and high-quality wheat. This flour is specially made for professionals who want to produce cakes with a soft texture.
6. Specialized & Customized
For this category, there are 2 customized flours, Sriboga TEP and Lunpia. Sriboga TEP is made to produce pao with bright colors and a soft and moist texture, while Lunpia flour is the right choice to produce lumpia skin with maximum elasticity and flexibility.
7. Feed
In addition to the 6 categories of flour above, the company also produces 2 types of animal feed, Wheat Bran and Wheat Pollard.
PT Sriboga Flour Mill Activities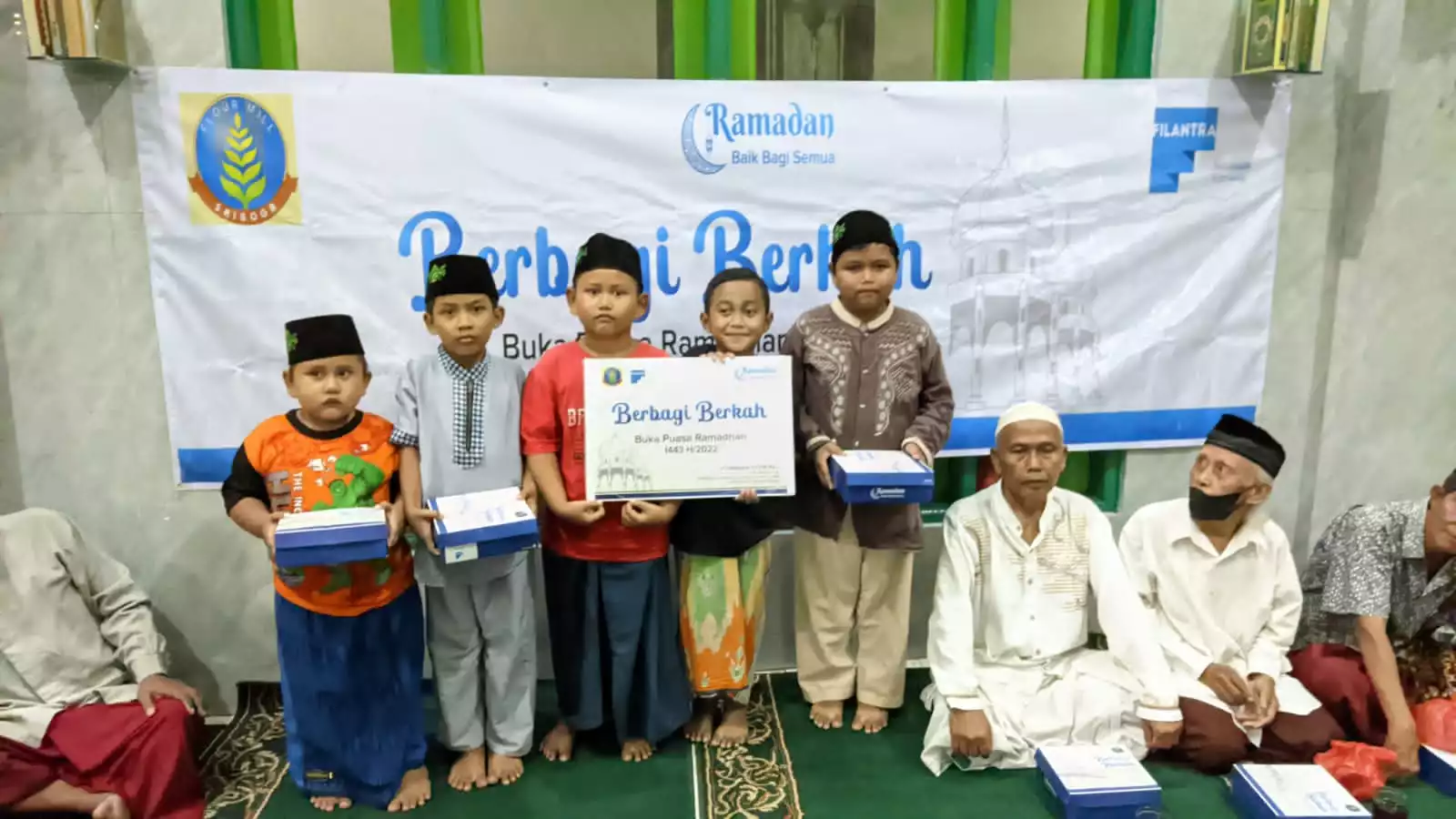 In accordance with one of the company's missions, PT Sriboga Flour Mill contributes to the empowerment of SMEs in Indonesia through the Sriboga UKM Center division. This initiative began in 2004 with the Koperasi Anggota Rombongan Mie Ayam Yogyakarta (Koparomieyo Cooperative), a collective of chicken noodle sellers in Yogyakarta.
Sriboga UKM Center collaborates and empowers various SMEs in Indonesia, especially those that mostly use wheat flour as their main ingredient. Currently, Sriboga UKM Center has supported 3,502 small and medium enterprises in 20 cities.
In addition to providing support to the SME community, the flour manufacturer also gives back to the surrounding community through its Corporate Social Responsibility (CSR) programs. In February 2022, the company held the Bustanil Arifin Award, as the final series of the Sriboga UKM Class event. The Bustanil Arifin Award 2022 is a form of appreciation to all SME partners who have participated in the Sriboga UKM Class seminar series.
And most recently, in Ramadan 2022, the company collaborates with Filantra, a CSR consulting organization. In a CSR program called "Sharing the Blessings of Ramadan 1443 H", the company shares iftar packages to the surrounding community. Until the end of Ramadan 2022, a total of 5000 iftar packages have been distributed in 6 cities in Central Java province.
If you wish to know more about PT Sriboga Flour Mill or other PT Sriboga Raturaya subsidiaries, you can check our other articles here.
***